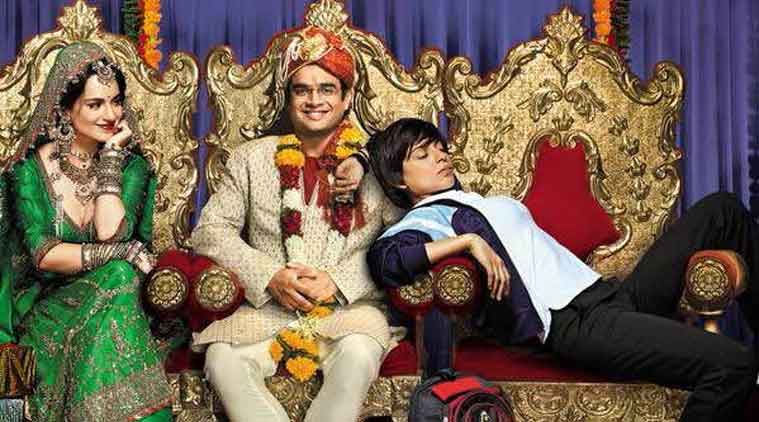 Hardly does a sequel manages to live upto the glory of the first film. That's because anything novel is always exciting. A follow up becomes the victim of over expectations and hype. But in the case of Tanu Weds Manu Returns, it's just the opposite. The sequel surpasses the first film and how! Does kudos go to Kangana Ranaut for this? Well, this film is a team effort!
What's it about
The now London-based Tanu (Kangana Ranaut) and Manu (R. Madhavan) are unhappy in their married life. It's drab, boring and unexciting. Both blame each other for it and to create a bit of excitement in her life, Tanu plays a prank that lands Manu in a mental asylum. A lot of contemplation thereafter, Tanu decides to return to India but calls up Pappi (Deepak Dobriyal), Manu's friend, to rescue the latter without doing it herself. While Tanu takes it for a childish prank, Manu won't take it lying down. After mulling over it, he sends a divorce notice to Tanu. Not anticipating such a reaction from Manu, an enraged Tanu reverts to her old wild ways while Manu finds love in Tanu's lookalike Kusum. But can Manu really move on so easily? Is Tanu really devoid of any love for Manu?
What's Good
Almost everything is superb in this film. It's funny, eclectic and wondrous. If the spin of the story is fabulous, the performances deserve standing ovation. Kangana Ranaut is spectacular as Haryana's state level athlete. She seamlessly shifts between Tanu and Kusum and you would actually believe they are two different people. Her Tanu act was something we have seen before so there is no newness to that but Kusum is amazing! Madhavan in his role of this cute adorable husband does his job well. This time he too has some funny one-liners.
But it is Deepak Dobriyal who steals the show here. He has some of the best lines in the film which will crack you up instantly. What works is his straight faced way of delivering dialogues. It seems humour comes very easily to him. All of us have a friend like him who can make you crack even with a simple way of addressing your brother's wife, "Bhaaabi." Jimmy Shergil too deserves a mention here for looking really dashing and for some superb straight faced humour!
Aanand L Rai has proved yet again that all you need is a correct story and some hilarious punches to move ahead…audience will do the rest.
What's not
There isn't anything supremely unacceptable in this film apart from a few technical errors. There seems to be lip syncing errors at the start and in the second half. The later half threatens to sag a bit with humour declining and emotional outpouring but Rai manages to pull it back! The beti bachao, beti ko azaadi dilao speech by Rajesh Sharma, who plays Kusum's brother, seems forced but easily forgiveable.
What to do
Tanu has returned with Manu this Friday and this time, everyone is making sure you don't leave the theatre without a big smile on your face. Hoots and claps are the order of the day! Catch up with Tanu once more or you will miss all the fun this weekend!
4.5 Stars/ 5 Stars
Credits: BollywoodLife.com