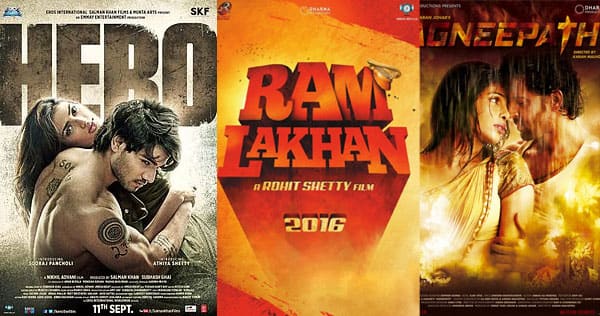 From remaking films like Agneepath, Himmatwala, Hero and Ram Lakhan to borrowing plots from South Indian movies and Hollywood, Bollywood seems to be crazy about making remakes and reboots. Is there a dearth of creative and original ideas? Let's investigate…
Bollywood is obsessed with remakes. Hollywood, for now, is churning out reboots at a rate that could make your head spin. While remakes are simple — take an old/regional film, make some changes, cast a fresh pair and release it in Hindi — reboots involve rebuilding the franchise from scratch. Like Spider-Man. The same film has been made with different actors twice in the last decade.
B-Town won't reboot one of its films again. You will never see Dhoom or Krrish remade in Hindi with a different cast. This is mainly due to the fact that Bollywood, till recently, didn't have many franchise movies. However, lately sequels or a franchise being created on the rise. Dhoom, Krrish, Golmaal, and Singham are some which fall under this bracket.
Hollywood, meanwhile, uses the reboot trick repeatedly to entertain to the audiences. Whether it's the Godzilla series, The Fantastic Four franchise or various outings of superheroes like Spider-Man,Batman and Superman, the formula has proved successful. However, a recent phenomena that one can't fail but notice is that the reboots are happening frequently.
Creative bankruptcy
It looks like there's a crisis brewing in the Hollywood studios and it's not just the usual money issues that plague every production house. Film critic Raja Sen says, "The problem is that a creative bankruptcy has set in. Franchise movies are a formula that has worked for these studios and so is likely to work again. The studios want to keep cashing in. However, most of them don't have the foresight to create or foster a new franchise. If a movie fails they immediately shut down that path and eventually reboot it with another set of actors. That's what happened with the Amazing Spider-Man series."
Film critic and writer Aniruddha Guha says, "There's a paucity of fresh ideas in Hollywood, which increases reliance on reboots. The most memorable films every year — barring two-three big, studio films — are the small to medium-budget ones, the kind that gain momentum around Oscar season."
Easy recall, lesser risks
Guha also points out that most movies that have been rebooted have great recall value. He says, "Franchise films have higher recall value. Making a film on a well-known character ensures better traction. The real challenge lies in creating a franchise from scratch, like James Cameron did with Avatar recently, or George Lucas did with Star Wars years ago. It needs years of development and the work doesn't end with the origin movie. Avatar released in 2009 and the sequels are still being worked on."
Hollywood in a flux
These also seem to be difficult times when for Hollywood when it comes to understanding their audience. Film critic and writer Mayank Shekhar makes a point, "The kind of money that these studios spend on their movies does not allow them to take risks. Hence they depend on reboots. Hollywood is in a state where it don't know its core audience. Majority of its revenue now comes from across the globe. They are making a movie for somebody who will be watching in Japan as well as Russia, India and even Philippines. How can they cater to such a diverse audience?"
Make a spectacle
Internet has made downloading a movie child's play. Shekhar says, "Majority of the audience there is watching movies on their laptops. Theatre is on a decline. And the best way to get the audience to watch a movie in a theatres is by offering them a spectacle, an experience which they cannot enjoy if they download a movie and watch it on a small screen. And there are just that many franchise movies that can be made. Starting a new franchise is a huge risk. You know that Terminator fans will come and watch it, similarly Spider-Man fans will watch those films. So the reboots keep getting frequent."
The lure of reboots
When a studio opts to make a franchise, it depends heavily on the fact that fans of those characters will come to the theatre to watch the movie. Guha says, "Another advantage of franchise films is lesser dependency on stars. Avatar, the Spider-Man films, Man of Steel, the upcoming Star Wars movies — these carry tremendous buzz in spite of having relatively newer actors in lead roles. Robert Downey Jr wasn't considered to be a safe bet, commercially, till Iron Man released, and now he's the world's highest paid actor." And though a franchise movie will have it's loyal fans coming in, there's a problem here. Shekhar says, "Like with sequels, where the makers know that the original was loved, so people will come to check out the sequel, it's the same argument with reboot. It's this logic that they use to offset their risks. What they don't really give a thought is the other, newer audience that they can draw in."
Star control
And while starting out with newbies helps keep the budget under control, it's only natural that the once-struggling actor demands a huge pay cheque once the series takes off. According to Forbes,Robert Downey Jr is pocketing a reported $40 million for Captain America: Civil War. According to other reports, he has also negotiated some part of the films backend profit. A stark contrast to the $5 million that he was reportedly paid for his first outing as Iron Man in 2008. It's obvious that a star who has that kind of power is not a great proposition for any studio. Says Sen, "It would be impossible to think of an Iron Man movie without Robert Downey Jr. This is the problem that studios face when actors get bigger than the franchise. The amount they have to shell out only gets bigger. In that case killing off a character is a good option. The other way out is to reboot the series and start afresh."
Telly gets the best talent
Guha says, "This is, quite clearly, the Golden Age of television in America. Hollywood's best talent — be it writers, directors or actors — are taking to mini-series in a big way. Between the two mediums, television is the superhero trumping the big, bad movie business." The frenzy that Downton Abbey and Game of Thrones have witnessed is a proof of this trend.
B-Town's remakes
While movies like Devdas, Karz, Sholay, Shaukeens and Agneepath have been remade, these are not reboots simply because they aren't franchise films. Apart from Farhan Akhtar's Don, which had a sequel in Don 2, none of the movies have had a growing graph or a drastically different spin to them. And while now remakes are being made of movies made in '70s and even late '80 — with Ram Lakhan (1987) being made with a fresh cast – the scope for remakes is limited. Sen says, "What would we reboot in Bollywood? Actors who have acted in our biggest movies like DilwaleDulhania Le Jayenge and Hum Aapke Hain Koun are still our heroes today. It's impossible to think of a remake of something like, say, DDLJ, with some new actor when Shah Rukh and Salman etc are still out there romancing young girls. Why would the audience want to see new kids when the old stars are still pretending to be kids? The only reboot I can think of, really, is Ram Gopal Varma's take on Sholay, which really put the 'boot' in the whole 'reboot' idea." The best possible use of a remake in B-Town is that it proves to be a great publicity vehicle with people talking about who'll be playing what to how the characters will be different from the original. As of now, B-Town will have to be content with looking forwards to Singham 3, Dhoom 4 and Golmaal 5.